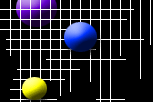 Blackfire: Welcome this is our planet.

Starfire: It is very pretty, yes?

I don't know what is happening anymore. Oh yeah Starfier congrats, on the computer.......... Yeah there is pet's below these updates. Play with them and make them "happy" yeah well bye bye.


7-1-05




Star: This is Unbelievable! I am updating here too! Please do not forget about this site just because we are to lazy to go here. Keep it alive!