This is me Raven. Hopefully, this room will be better than the other one. People making fun of me by putting up evil pictures? That's why I do that to Robin and Starfire. Well, hopefully you won't stay long.

Robin: Hahaha! that's for showing my fans my messed up hair!
Raven: Robin your evil! I'll get you back. You knwo I don't get scared! Watch me i WILL get my revenge!
Robin: I'll be waiting for yeah!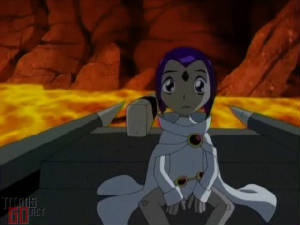 Hey that's me when I was small! Who put that there!!
BB: Yeah about that...
Rae: BEAST BOY!!!
BB: ok ok, just because I was snooping around in your room doesn't mean I can't take pictures I found of yeah back then.
Rae: (Evil eyes)
BB: Well.... too late? To bad so sad? Uhh.... I'll be in the living room, you know LIVING room where some people would like to LIVE. You know what I mean?

Yeah, I'm messy got a problem with that? (wahhhh!!! Not another evil picture!)

Robin: That's for making the evil page with me and Starfire!

Raven: Your kind, you truley are. At least things can't go worse. I mean I got you on a date and when you were kissing! Can't beat that. I don't do that to anyone.

Robin: (whispering) Well your the one who had a crush on Slade's son in the old comic books....

Raven: (evil eyed) What was that Robin!

Robin: Oh nothing... hehhehheh..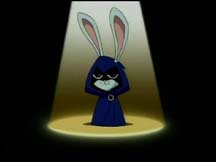 Raven: How come it feels like everyone's against me? hmm, that's because they are! I'll get you back Robin!