Raven:Ahh. Well dosen't she look like she's going on a date? She is, with robin. And I snuk up on them and heard their whole conversation. Here Im writing it down for you from my memory. Here it goes
Starfire:Robin, I had a glorious time with you tonight!
Robin:So did I star.
Starfire:Robin, may I ask you something?
Robin:Sure starfire, go ahead.
Starfire:How do you really feel about me?
Robin:Ohh...uhh..umm...well...let's just say it's really hard for me.
Starfire:When you were dancing with me, I was wondering how you really felt about me.
Robin:Ok, here's the truth...I lo..I lo...
Raven:My memory goes blank there. Sorry everyone:( Check back later, I might have some more dirt on them!

Raven: As I was saying, I would get Robin back for my scared picture! I do not get scared. Here's proof they were on a date! I mena, look at there oufits? HAHAHA, I got them good! Better go before they fget here! Bye!!!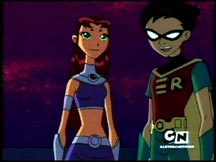 Raven: Oh how sweet , almost makes me have to barf.
Starfire: Greetings Raven! I hope you are having a glorious day! ....What is that?
Raven: You tell me.... I gotta go... BYE!
Starfire: Raven! *grabs her, but uses her powers to sink into the floor, sigh* She is good at that.
Raven: *at door* Thanks, I think...
Starfire: Why must you torture us?
Raven: Blame Robin.
Starfire: Why must that?
Raven: Do you even look at my room?
Starfire: No, you said o one to go in there.
Raven: Good point. T.T
Starfire: I am not blaming anyone for putting this here except me. No, Raven did not place this here. I did. It is a very good thing Robin is not here. I hope he never sees that I put it there. Yes, this is the actually Starfire speaking. I know I said I was quitting, but I wanted to put one last thing up. I may update on the pages now & then, but this is the first time I have put something on the pages. The other times you saw my name it was Raven pretending it was me.
Sunfire: Wee! I love this new flavor of soda!
Starfire: Sunny, that is gasoline for automobiles.
Sunfire: ...YAY FOR GASOLINE SODA!!!!!!!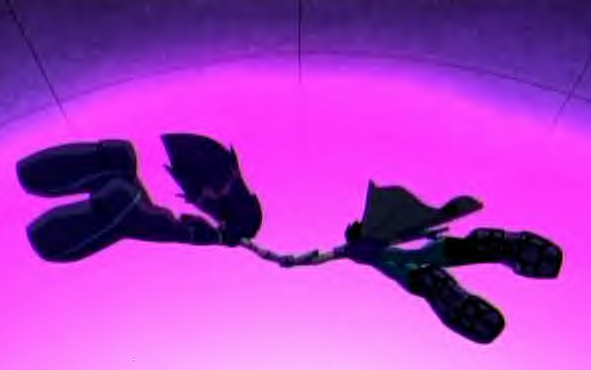 Raven: And the love fest continues...
Star: Why do you do this to us?
Raven: Because it's one of the few things I enjoy.
Star: Could you please find anything to enjoy? Please? Before Robin sees this?
Raven: One word Starfire-
Robin: Hello-
Star: Oohhh X'hal...
Robin: Not again!
Raven: This is the part when I'm suppose to run.. *dashes off*
Star: Why does she do this, Robin?
Robin: I don't know Star..
Raven: I enjoy it a lot. *makes small smile*
Star: May you please stop, dear friend Raven? PLEASE?
Raven: Let me think about it..No!
Star: Forgive me (starbolts her)
Raven: *Blocks it with telekinis* Stop it!
Star: Please stop being a clorbag then.
Raven: No.
Robin: Cat..fight..
Star: Then I have no choice (flies at her)
Raven: (levitates at her)
Robin: 3...2...1..
Star: (fighting Raven) Dy rutt l'qi null!
Raven: *fighting Starfire* Shut up you Tameriean freak!
Star: Koq'x demon!
Raven: Green eyes!
Star: (stops) What am I doing? Sorry, Raven.
Raven: Well that was a load of eggs and bacon..
Robin: Could you do it again? *holds up camera*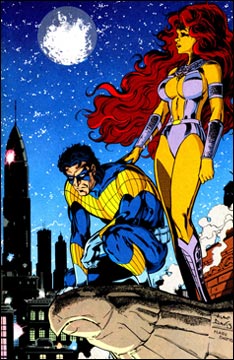 Raven- And if you look to your...in front of you, you will see our two little friends together as usual.
Star: NO!! Robin better not see this...
Robin- Not like I want to! We need revenge!! She has a page of us and our embrassment!
Raven- So?
Robin- >.<
Raven- I always win!
Star: I GIVE UP!!!! (leaves)
Robin- Starfire! Don't leave me!
Raven- Raven, 99. Robin and Starfire, 0!
Star: (yelling as running) EVIL CLORBAG RAVEN!!!
Raven- I do my best, bwahahahaha!
Star: (stops) What am I doing? (runs back, mostly for Robin)
Robin- Thanks Star.
Raven- I'll destroy you two!
Star: (sounding scared) Destroy who? (hugs Robin for comfort)
Raven- -__________________________-''
Robin- I say we go out somewhere and leave Raven to watch Sunfire! >D
Raven- 0.0
Star: I agree! (yelling) Ger'q k'fax Kosuand'r!!!
Sunny: (coming out of nowhere & crashing into Raven) HIYA FRIEND RAVEN!!!
Raven- Kill me now JUST KILL ME NOW!!!
Robin- Bye! Have fun.
Star: Follow, Robin!
Sunny: SODA!!

Raven- And again I have another successful picture.
Star: AAAAHHHH!
Robin- Don't tell me there is more pictures on this of us!
Raven- Then I won't tell you.
Star: I am hiding now... (hides behind Robin)
Raven- Oh c'mon it's just one little picture no harm being.
Robin- Raven can't you just mind your own business?
Raynebow- oH i WAnt to tAKe thE NEXt picTURe!!
Star: Kd'xka g'dyr...
Robin- It's okay Starfire.
Raynebow- Oh shUDDuP! LETs geT thIs PARty starteD!!
Raven- Isn't it past your bedtime?
Star: Oh X'hal...(hugs Robin)
Robin- (hugs back) Raven isn't it past your bed time?
Raven- WHAT??
Raynebow- *sneaks away*
Raven- Beautiful...
Star: (confused) What is beautiful?
Robin- *Looks towards Raven*
Raven- *Makes up a quick lie, opens arms to them* You two!
Robin- *sweatdrop, whispers to star* Shes been hanging around Sunfire too long...
Star: (whispers back) I agree...
Raven- Right...*sweatdrop* I'll be going.
Robin- Okay bye Raven.
Star: Now what do we do?
Robin- How about we-
Beast Boy- IT LOOKS LIKE A JELLYBEAN!