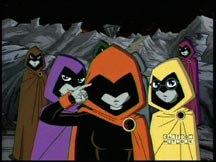 THATS NOT SUPPOSE TO BE THERE EITHER!!!
Feli: Cool! Different looking Ravens! Lots of Ravens!
Raven:Uhh, Do I know you?
Feli: I don't know, do you? (leaves)
Raven:Great just what I need another idiot like Beastboy...
Feli: (appears out of nowhere) Thanks for the compliment! (leaves again)
Raven:And I thought Starfire was bad...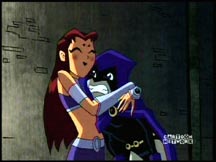 Please will this place ever go right?*sighs*
Keith: Nope
Invis: If it's run by you, then no.
Raven:WHO ARE YOU PEOPLE!!!
Keith & Invis: People!
Raven:Am i suppose to know you?Because I think I don`t want to know anymore...
Keith: Like Feli said I don't know, Do you?
Invis: Good one!
Raven:I`m not..laughing...
Keith & Invis: (offended) Fine, then we'll leave! (leaves)
Raven:......YAYY!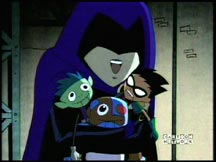 Ok now this is plain ridiculous...
Angel: What do you mean?
Raven:*turns around and sees Angel*AHH!
Angel: What?
Raven:Are you like the other three?
Angel: ...What on earth are you talking about?
Raven:I don`t know anymore..
Angel: Okay...I'm leaving now....(leaves)
Raven:Things could get worse...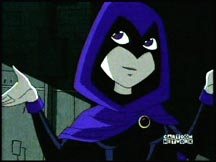 Alright...thats..not..me..
Icy: I feel sorry for you...
Raven:Tell me about it....?
Icy: I've seen worse.
Raven:Yea just look up..
Icy: I know...The other four told me.
Raven:Please tell me they didn`t tell you the WHOLE story?
Icy: Well, it's hard to understand 3 of the 4 while they're acting like complete idiots.
Raven:You don`t know how it is to be different on this team...
Icy: Maybe not on your team, but I understand on my team.
Raven:....I think I made a friend!
Icy: Same here!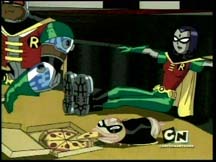 Ok now this is embrassing and this is ME!! Sparky:Hia!You do look good in a mask!*smiles* Raven:Am I cursed?Or does the fun just keep coming! Sparky:I don`t know?*does a little an embrassing dance to Raven* Raven:Great I feel so happy.... Sparky:Thats good!*twirls her* Raven:Ok you gone to far!*gets angry* Sparky:EEEEKKK!*gets turned into a pikachu and then runs off* Raven:..That always works! Sparky: I took this TT quiz and I was him :O

You are most like Beast Boy. Funny and a bit
dim-witted at times, your practical jokes are
not all that funny at times since you get
boring with them after a while. You are
sometimes lazy and love to just hang around but
who doesn't? You really hate it when a
practical joke goes haywire or it winds up
making the person extremely mad at you. Your
jokes are funny at times but you don't know
when to quit. You are friendly at times but you
need to tone it down a bit. You can be loud and
funny when it suits you and a playboy or just
plain jealous. You think very highly of
yourself and are full of pride but this can
lead to your undoing. You are usually
nice....although it can be hidden from others.
People might make fun of you but it's all just
for fun...even though you may not feel like it.
Don't get too ahead of yourself, pride alone
doesn't accomplish a thing!

Which Teen Titans Character Are You?
brought to you by Quizilla This is embrassing EVEN FOR ME!!
Now who would put up something like that?
Leopardfur: Apparently, you.
Raven: Ok, now can you anwser a simple question... WHO ARE YOU AND WHAT ARE YOU!?!
Leopardfur: You're very rude.
Raven: Thats not answering!!
Leopardfur: ...and in English?
Raven: I AM SPEAKING ENGLISH YOU SPOTTED FREAK!!
Leopardfur: WHAT DID YOU SAY, YOU CREEPY DEMON???!!!!
Raven: YOU HEARD ME, YOU ANNOYING PEST!!
Leopardfur: I AM A LEOPARD, FOR YOUR INFORMATION!!!
Raven: YOU ARE SO STUPID YOU CAN`T EVEN COUNT YOUR OWN SPOTS!
Leopardfur: YOU HAVE FOUR EYES!
Raven: DON`T MAKE ME HURT YOU!!
Leopardfur: I'D LIKE TO SEE YOU TRY, TRIGON'S DAUGHTER!!
Raven: OKAY YOU ASKED FOR IT!!
(Feli comes walking around corner)
Feli: You've lost your mind again, Raven. You're fighting nothing!
Raven: (looks around, embrassed) ....umm...uhh..
Feli: The doctor needs a doctor over here!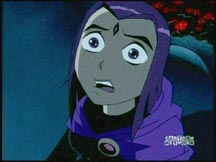 I do not get scared!
Leopardfur: Oh, really?
Raven: whats your point?
Leopardfur: You're a poopyhead.
Raven: WHAT!?!
Leopardfur: And I'm gonna keep driving you crazy until you explode.
Raven: Then I'll just.. just leave!(walks away)
(walks ahead, then sees Leopardfur in front of her)
Raven: Your soooooooooo nice T.T
Leopardfur: THANK YOU SOOOO MUCH!
Raven: I was being sarcas- Yes what a good thing you are. (pats her)
(Leopardfur bites her hand)
Leopardfur: I...AM...NOT...A ..THING!!!
Raven:OW!! WHY YOU LITTLE!! (makes a building fall on her)
Leopardfur: Don't bother. I'm everywhere.
Raven: (turns around) I wish the Rescue cat would eat you!
Mr. Pot: (thinking) Ouch.