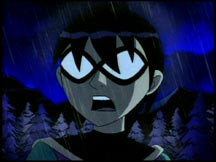 Hey! What's that doing there!? My hair is all messed up! My fans are NOT supposed to see that! Great, Raven did this. Huhhh...Great, my reputation is ruined! That darn Raven. She always has to make fun of me! I'll get here back, no matter what!
Raven:Hahaha, I embaressed you!
Robin:Very funny Raven.
Raven:Yep, it is very funny!
Robin:I swear, I will get my revenge!
Raven:*sarcasticly*ooohhh, i'm sooo scared!
This picture has a weird story to it. One day I walked into Starfire's room. She was giving Silkie a bath but Silkie wasn't in the tub, Starfire was cleaning him by licking him! I was kinda...shocked at what I saw.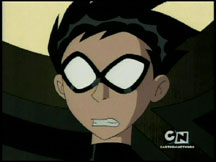 Raven: Robin, Starfire is stupid. No offence to her.